Sometimes You Go to the Pub and Sometimes the Pub Comes to You!
This is a situation where the latter comes true. It is no secret that people around the world and especially alcohol lovers have a thing for Irish pubs. Imagine having a stout beer in an Irish Pub. Pure bliss, right? These pubs have a certain kind of aura around them that makes the atmosphere lively and much more enjoyable. Be it their fireplaces, brick walls, or the chimneys – everything about Irish pubs speaks history and is beautiful. These quaint alehouses, enriched with a rich backstory, make for the perfect place to sit back, relax, unwind and have a drink. However, unfortunately, they are not available everywhere you go.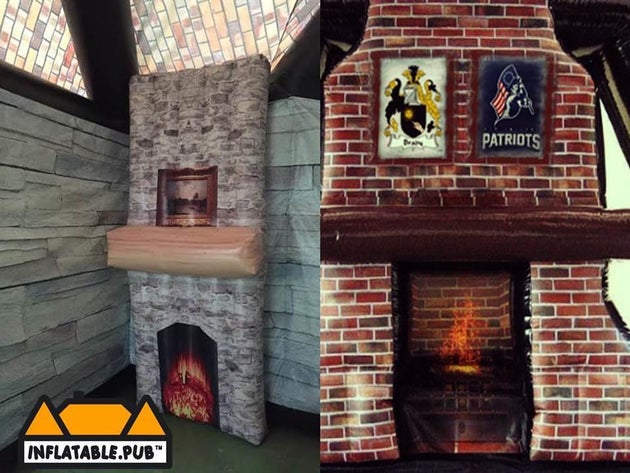 To solve this problem and to make your life better with an Irish Pub, there is 'The Paddy Wagon' to your rescue. Okay, so this is extremely simple. You go to their website, book for an Irish Pub and they deliver. Confusing?
How do they get a bar to your home?
Wait, let me tell you something interesting about this. The Irish Pub of your dreams is inflatable!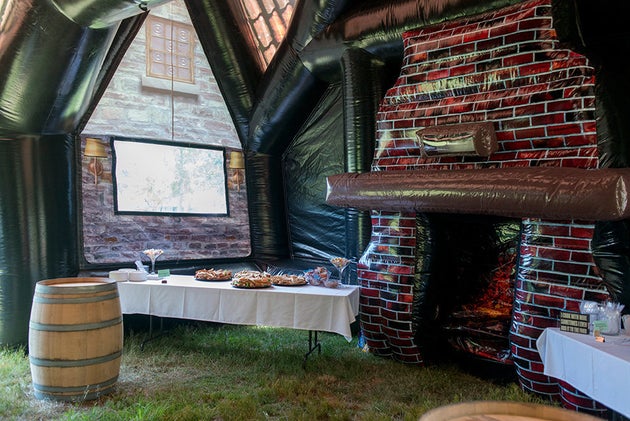 Remember the bouncy inflatable houses at those kids parties? This is just like that, but with Irish intricacies and details. This is your own adult inflatable house. The Boston-based company 'The Paddy Wagon' rents out these blow-up versions of Irish pubs in combination with everything you need to host your Irish party.
The Inflatable Irish Pub of Your Dreams
This inflatable bar looks like a real pub from both inside and out. It has everything – the gorgeous bricks, fancy chimneys, a beautiful-fake fireplace, and light fixtures to make for the 'Irish' atmosphere. The large version of this pub can fit as many as 80 people in it. However, a smaller version is also available for your intimate parties.
To add to this, The Paddy Wagon offers you authentic whiskey, stout, and an entire range of Irish fare. This includes the soda bread, Shepherds Pies, and the scrumptious curry fries. If all of this still doesn't get you into the Irish groove, it will provide you with DJs or live music, Irish step dancers, and also a 'pour your own pint' demonstration to make your party much more fun.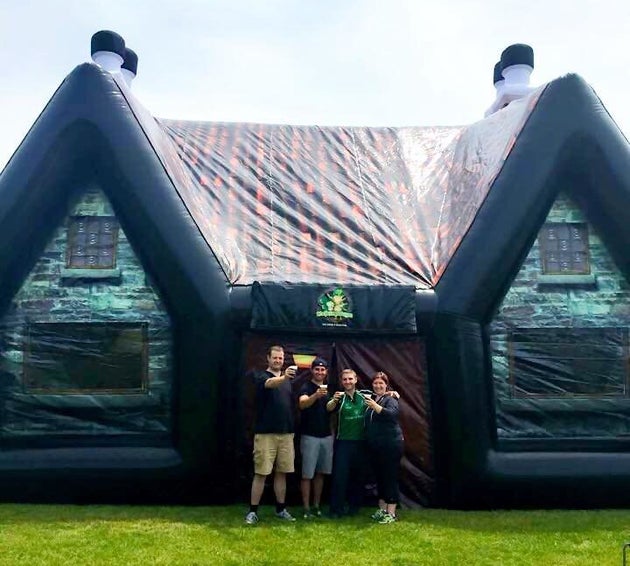 The Inflatable Pub company sends these pubs for rent all over the United States, England, and Ireland. But the icing on the cake is that you can also buy one of these for $2,500 to $5,900 depending on your preferences. They come with a personalized name and can be fixed in your backyard to make for a 24/7 pub. If you are looking for renting this, The Paddy Wagon can install this in your backyard at a cost of $700 for the smaller version and $1200 for the bigger one.
Nevertheless, here comes the best part of it. It will also send wolfhounds for you. Yes, the furry wolf-like dogs that you can pet and cuddle with, THE ENTIRE DAY.
And who are we kidding, aren't we all going to rent The Paddy Wagon for the dogs?