The supremely popular TV series Game of Thrones aired its first episode way back in 2011 and the fans are still rejoicing it. The show gained popularity in no time and has a huge list of awards under its name. As Game of Thrones developed into a tale like none other, it had an increasing fan base that came up with twisted theories and fanfics. The much anticipated season 8 of the series aired recently and rolled out in six episodes, giving an unexpected ending.
While some rejoiced at the unanticipated ending, some others threw flak on writers D&D (D.B Weiss and David Benioff) for a lot of loose ends.
The cast bids an emotional goodbye to the show!
What does George R.R. Martin have to Say about this Ending?
One of the best authors of our generation, George R.R. Martin (also called as GRRM) had a mixed reaction about the show's ending. The author was very much involved in the writing process of the show from season 1-5 and gave in inputs that gathered a lot of attention to the show. As a result, the audience grew fond of the gruesome plot twists and surprises that made Game of Thrones different from other shows.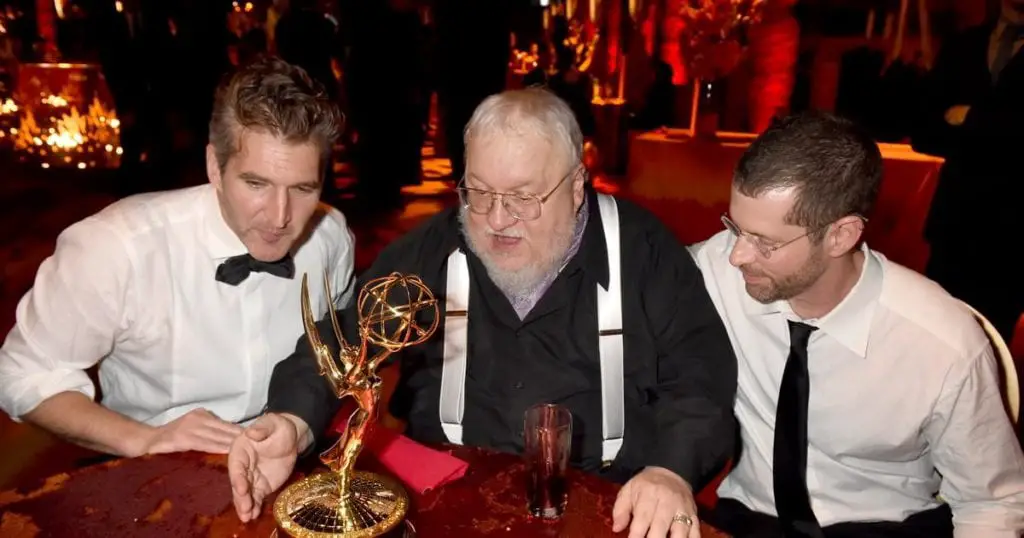 However, after season 5, the writers Weiss and Benioff were left on their own to write a story to the end. Martin hadn't written the books after that and was quite ambiguous about the fate of the characters in the end. Hence, D&D took it onto themselves to craft the rest of the series.
When Game of Thrones was discussed back then, Martin thought that the 'Song of Ice and Fire' would remain to be a show that would fail to impress a lot of people.
Nevertheless, we now know what the truth is!
In GRRM's Own Words
He recently stated in his blog named 'Not a Blog' about all the things he is grateful for in the show.
"The last night, the last show. After eight epic seasons, HBO's GAME OF THRONES series has come to an end. It is hard to believe it is over, if truth be told. The years have gone past in the blink of an eye. Can it really have been more than a decade since my manager Vince Gerardis set up a meeting at the Palm in LA, and I sat down for the first time with David Benioff and D.B. Weiss for a lunch that lasted well past dinner? I asked them if they knew who Jon Snow's mother was. Fortunately, they did."
He also thanked all of the cast and crew members that made the show a hit.
"I want to thank people, but there are so many. There were forty-two cast members at the season eight premiere in New York City, and that wasn't even all of them. And the crew, though less visible than the cast, were no less important. We had some amazing people working on this show, as all those Emmys bear witness. David & Dan assembled a championship team. The directors were incredible as well. I should start naming names, but then I'd miss someone, there were so many."
Daenerys Targaryen in the last episode of season 8
The Winds of Winter
"And I'm writing. Winter is coming, I told you, long ago.. and so it is. THE WINDS OF WINTER is very late, I know, I know, but it will be done. I won't say when, I've tried that before, only to burn you all and jinx myself… but I will finish it, and then will come A DREAM OF SPRING."
He further continued that the ending of the book is going to be very much different from the show. He confessed to working on a very different medium. Lost characters and invisible ones are expected to reappear with some other mythical characters added.
"There are characters who never made it onto the screen at all, and others who died in the show but still live in the books… so if nothing else, the readers will learn what happened to Jeyne Poole, Lady Stoneheart, Penny and her pig, Skahaz Shavepate, Arianne Martell, Darkstar, Victarion Greyjoy, Ser Garlan the Gallant, Aegon VI, and a myriad of other characters both great and small that viewers of the show never had the chance to meet. And yes, there will be unicorns… of a sort…"
GRRM also added that once the book is released, it belongs to the audience. And that they're all open to argue on the internet about it!
"How about this?  I'll write it. You read it. Then everyone can make up their own mind, and argue about it on the internet."
How do you think George R.R. Martin will end the Song of Ice and Fire? Who will be seated on the throne? Let us know in the comments below!